Back in the day when I had several blog sites, I would have a tradition where every Thursday I would interview models, both famous and upcoming. The segment, known as Thursday's Tastycake became well known in the blog world and would get thousands upon thousands of views (I say Tastycake because I'm in Philly and that's one of our signature desserts) So now that I have a Full Website to call my own, I can blog throwback interview from way back and NEW models to look out for. So get ready! Here's a throwback interview from back in May 2010 with a Very known lady, Kimmi Kennedy. We probably will get an update from her soon. Check it out!
from May 2010:
1. I know a lot of people know who you are by now. But to the 11 people left in this country, introduce yourself.
Haha… that's cute!! I am Kimmi Kennedy. I am a working model, radio personality & actress.
I have been featured in just about every major magazine's as well as fitness magazines from Smooth, King, As-Is, Dime Piece, Hip-Hop Weekly, Fit Models Magazine, Hip Hop Honeys, Some national dating commercials etc….
2. Where are you from? What was your childhood like?
I am from New Orleans, LA… I had a great childhood, I was really smart, a nerd in hindsite. I was spoiled rotten by my grandparents. I had everything I wanted and more.. Other kids rode bikes I rode a horse… I graduated high school at 16…
3. What made you start modeling? How was your 1st photo shoot?
It was just something I fell into and got better and better at it as time progress and I began to study the craft…. My first photo shoot was awkward feeling but came out looking better then I expected. Since I am the type that likes to be the best at everything I began to work on what I saw as flaws… and built by brand and my name as I did so…
5. Measurements?
Well right now I gained a little weight so my exact measurements are 34DD-25-38, I am 5'3.
6. What is the scenery, photographers and settings you need to make it a perfect photoshoot for you?
Just really laid back professional photographer who knows how to shoot so my energy is not wasted. The scenery doesn't matter because I know what I'm doing distractions, noise or even other people don't affect me when I shoot… I zone out! Its just me and the camera…
7. You were also a Playboy Cybergirl from 05-07. What are your opinions of posing nude? Do you recommend an upcoming model to do so?
Yes I was! Its not for everyone but at the time it seemed like a great idea because I was so flattered to that they even considered me. Just being associated with Playboy is awesome, shooting in their legendary studio is awe-inspiring.
8. Here's a real question. We were discussing at a past radio show (shoutout to J Milly) about some model's behaviors to get ahead in the business. According to you, what percentage of models smash or get it in to get ahead? (example: Half)
If we are specifically referring to the urban industry, I would 69% of the ones being seen right now and 87% of the ones trying to get on. That's just being realistic… sorry if this offends anyone…
11. Where's the perfect place a man can take you out on a date?
He can take me shopping…. naw just kidding. Going out to eat, to club or a movie just fine with me…
12. Sex or relationship? Also how important is sex in a relationship?
Relationship. Sex is thrown around too much..its gotten way too casual. Relationships are hard, they require work..sex is easy.
13. Craziest thing a guy has done to get to you because of his infatuation.
Well I don't have many of those because I have been inaccessible and preoccupied with my work.
14. What are your personal feelings as you pose for a magazine?
I just look at camera as if it were my boyfriend and proceed to make love to him with my eyes and poses… sometimes its playful… sometimes passionate.
15. What do you like to do in your spare time, away from music, modeling, etc.
I just like to hang out and relax, I go to the movies a lot, bowling, eating at nice restaurants, travel. That type of thing….
16. One interesting fact about you that not a lot of people know:
I'm celibate…. I haven't had sex in a year.. But I'm starting to miss it..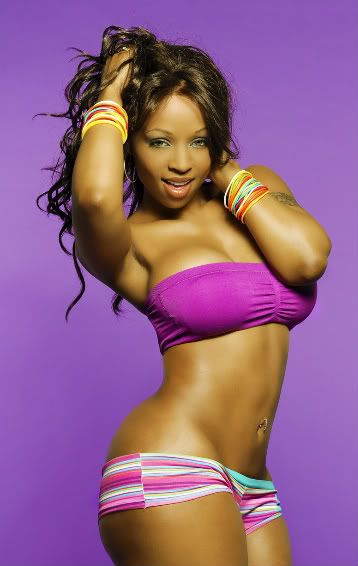 17. One thing you like to change about the modeling industry, whether good or bad.
The way they run, how they put certain girls on a pedestal, and other are disposable. The bias in the industry is unbelievable.
18. You have accomplished a lot in your career. What are the next steps for Kimmi Kennedy?
Yes I have done a lot so I have to get creative with the moves I make… Look forward to my new website, new hotter photoshoots, music and lots more… to keep up follow me on
Twitter.com/kimmikennedy
19. Contact info:
20. Any shoutouts?
Shoutouts to everyone who has supported and continues to support me!! I love you all… shout out to me for staying on my grind!! Its not easy but I do it for my fans..